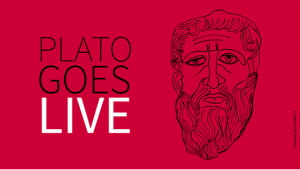 The contest "Eine Uni – ein Buch" invited German universities to pick a book, any book. The goal: to inspire a semester of events, ideas, and extensive, diverse participation… all with this single text. BCB students entered with Plato's Republic. And we won. We were among ten universities who received the scholarship. Yay, us! The result: seminars, debates, conversations, film fests, and "a Long Night of Plato" sprouted from the seminal work of an infamous, bearded Ancient. (Shout out to the sponsors: Stifterverband and the Klaus Tschira Foundation, in co-operation with DIE ZEIT.)
Full disclosure: I'm not a student in the Plato course, not a Plato-phile in the slightest. Even so, last Tuesday curiosity led me to the "Wandering Image" event at the ICI Berlin Institute for Cultural Inquiry. It was one of those ruggedly sleek buildings tucked away in a Prenzlauer Berg courtyard, packed with well-dressed intellectuals.
The topic: artistic practice and Plato's advocacy of censorship. The academics (Cristina Baldacci, Thomas Bartscherer, Philipp Kleinmichel) introduced the artists (Matt Mullican, Rosa Barba, Yngve Holen). The artists spoke, sometimes manically, sometimes listlessly, about their work and process. Most notable in my mind was Mullican, who stabbed a stick figure with a nail during an exhibit until the audience squirmed- until the audience really felt the pain of this "imaginary" picture. Before closing with a wine & cheese banquet, this link between process & product was developed in a panel discussion moderated by Geoff Lehman. It regarded contemporary art with the central question of Republic Book 10: how can an artist help break down the wall between the observer and the observed?
There we were, surrounded by smartphones and projectors, and Plato was still lurking among us. We're reviving him again this Wednesday with a discussion of "The Fairest Regime" at the Haus Deutscher Stiftungen. A handful of professors from around the world will be analyzing the German elections, populism, and tyranny through the lens of the Republic. Keep your eyes peeled for future events.
(P.S. If you have a used copy of the Republic, I'm accepting donations.)