"Are we still in Berlin?"
My wide-eyed, black-clad friend, Neuköllner to the bone, certainly feels out of place on Am Iderfenngraben. On her face, I read: What is this land that the M1 tram drops people off at, where cashiers speak German and only German, Altbauten lack a fifth floor, and stickers on lamp posts and graffiti are so rare they are actually noticed?
That used to be my question, too. On my first-ever ride on the M1, watching the colourful bustle of inner-city districts give way to Textilreinigungen and "Tante-Emma-Laden", I was struck by the very same feeling of perplexity:
"Are we still in Berlin? So quiet here."
Now I know: after almost a year spent in Pankow-Niederschönhausen, one acquires a very special set of skills. Just as you learn to avoid Eichenstrasse on windy autumn days (spoiler: an acorn rain comes banging on cartops), you master tuning your ears to the timbre of the neighbourhood's voice, which to newcomers may seem barely audible — or, perhaps, even nonexistent. Roaming through the streets, listening to the echo of one's own footsteps, a new Pankower longs to break the "quietness", to hear "real Berlin": Maybachufer market's eineuroeineuroeineuro, rooftop jazz, bus stations where six languages are spoken all at once. Come, new Pankower, listen closely; catch the symphony of the great suburb…
Pankow.
What does this sound of? Ow — a Slavic suffix; it echoes of the Slavic tribes who had settled in this area long before the site of today's Alte Pfarrkirche was enveloped by the houses and the farmsteads of Pankow's predecessor Angerdorf [*1] (hear M1's Angerweg?).
But what did the Slavs speak of?
One day, a whisper draws me from the porch of Dietzgenstraße's Sparkasse. I follow it to the gates right around the corner and find a pastel-pink Baroque building hiding behind them. This is the Schönhausen Palace, which in the course of the past three and a half centuries played many diverse roles:
a summer residence of the Hohenzollern dynasty, a storage for Nazi "degenerate art", a GDR guesthouse that welcomed Fidel Castro, Mikhail Gorbachev, Indira Gandhi… But wait! The whisper persists.
Pankow, Pank-ow.
A whisper, a murmur, a…burble?
Can you hear the Panke? The puny stream swirling behind Schloss Schönhausen is the river that gave the whole district its name. On a sunny Sunday, it's pleasant to follow one of the Panke's streams, Zingergraben, all the way to the well-shadowed meadows of Volkspark Schönholzer Heide. But for now I stick to the Panke itself; flowing along the former homes of GDR politicians on Majakowskiring [*2] and the modernist red-brick labyrinths of Paul-Francke-Siedlung [*3], it leads me back and forth through layers of time.
Having reached Bürgerpark Pankow, my feet ask for a rest. I find a bench in Bürgerpark's rose garden, turn my back to the football anarchy unfolding on a nearby lawn. Watching sunlight play in the young leaves, I am almost able to convince myself I have just spotted a fragment of a governess' tuft skirt and her pupil's silky ribbon flicker on the Monet-worthy bridge over the Panke. Almost, but not quite: footballers and planes cruising the sky to and from Tegel airport make it difficult to imagine the era when Bürgerpark emerged as a private English landscape garden, a refuge from fumes and the bustle of Berlin's big city life. I leave the park still trying to picture the days of those late-nineteenth century metropolis dwellers who moved to the city's North in search of a lost rural idyll.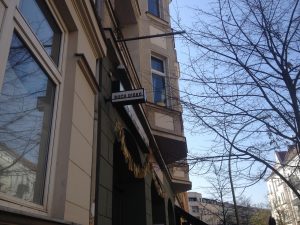 Shortly afterwards, I find myself leafing through the pages of Walter Benjamin's Berliner Kindheit um Neunzehnhundert at my beloved "Buch Disko" [*4]. "Time grew old in those shadowy little rooms that looked out on the courtyards", writes Benjamin of his childhood home in the sleepy bourgeois quarters. A search for these rooms with Berlin circa 1900 sealed within them leads me to Heynstraße 8. Here, a bel étage apartment purchased by Pankow's very own rattan [*5] manufacturer, Fritz Heyn, in 1893, survived through almost a century in its original state thanks to Heyn's two conservative daughters. I visit the clumsy handmade plush bear in its dusky Berliner Zimmer, walk among turn-of-the-century bathroom aggregates that seem too fragile to touch. Yet, admittedly, the abundance of "golden" birds on the ceiling and embroidered napkins placed on linen napkins makes one feel stuck in auntie's jewellery box. Though the museum's information stands have much to share, I soon go search for sun and air in Heyn's little courtyard.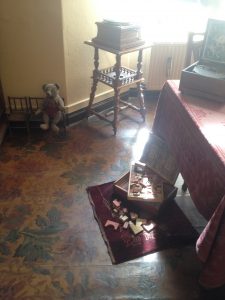 After an encounter with Pankow's bürgerliches Leben [*6], it's good to get in touch with the dörflich side of the district — which is not restricted to the bucolic Kleingartenanlagen [*7]of the well-heard-of but rarely seen Niederschönhausen-Schillerstraße or Rosenthal Nord. Listen, there it is, coughing next to the traffic not far from the Rathaus — a fragment of the times when Pankow was still considered a village, a summer picnic destination for Berlin's bourgeoisie. Welcome to the Alte Bäckerei, Pankow's "Museum of Bread" on Wollankstrasse 130. Just ask, and the polite old lady will gladly tell you about the everyday life of Familie Hartmann, who once provided Streuselschnecken for Pankow's every sweet tooth. Afterwards, let the smell (grain slightly burnt, straight out of the oven!) guide you to their baker's workshop, where one can get a steaming loaf of "Pankower lang" or "Pankower rund". Taste its crust when back on the M1 and save the rest for your afternoon sandwich — it goes well with cheese and tomatoes from the farmers' market by Pankow Kirche.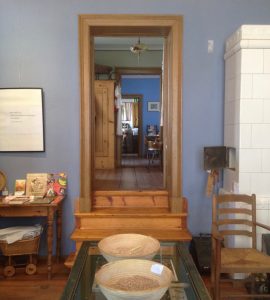 If time and season allow, I'd suggest taking that afternoon sandwich to Blankenfelde, which sounds like a kingdom far, far away, but is actually only a ten-minute bus 107 ride from Pastor-Niemöller-Platz. In case you need an agenda, Botanischer Volkspark Blankenfelde offers some greeneries, a 19th century "geological wall" and fallow deer who never mind company — but it's also pleasant to simply lie down by the lake, close your eyes, and let that last seminar discussion go.  
I step out of the M1 at dusk and am back on Dietzgenstraße. I go get a café crème at Rewe (if you haven't done so yet yourself — try it!) and resume the journey to my apartment. I maneuver around Pankowers carrying dinner in grocery bags, dogs dragging their owners out for an evening walk. Soon the district will wrap itself in a bluish-black blanket and snuggle around the warm light glowing from streetlamps and windows. Let the streets stay awake somewhere out in a Szenekiez: Pankow goes to bed at 10 pm, latest.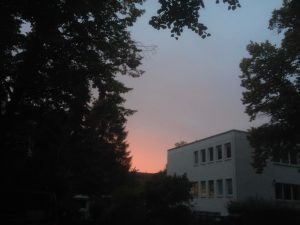 There is no denying it: Pankow is suburbs. At times bürgerlich, at times dörflich, with peace and comfort cherished above all. Yet — once you are here, don't run away on the M1 too often; let Pankow speak — it has much to say about Berlin. Notice your boot scratching Treskowstraße's Stolpersteine [*8], Bioskop humming on Skladanowskystraße [*9], message hiding in the carved wooden balcony of "Holländerhaus" [*10]. Pankow's voice is quiet enough to let you focus on what is important — be that a conversation with a friend, the third chapter of Kant, or existential reflections — but always there to guide those willing to listen.
Follow: Dietzgenstraße — Schlosspark Pankow — Bürgerpark Pankow — Buch Disco — Museum Pankow/Heynstrasse apartment — Alte Bäckerei — Botanische Volkspark Blankenfelde — Rewe am Kreuzgraben — Dietzgenstraße.
Notes:
An

Angerdorf,

quite literally, is a type of village consisting of farmsteads laid around an

Anger,

a central grassy area. Pankow's original

Anger

was situated on the territory of today's Alte Pfarrkirche "Zu den Vier Evangelisten" (Dorfkirche Pankow) on Breite Straße.

Majakowskiring (named after the renown Russian poet Vladimir Majakowski) was famous in the GDR times as many senior government representatives of East Germany had homes there.

The

Paul-Francke settlement on Pankow's Grabbeallee was built in 1908/9 by the German architect Paul Mebes for Berlin's state officials cooperative (

Beamten-Wohnungsverein zu Berlin

). The settlement can be considered a modernist answer to the city's "Mietskaserne problem" — an acute housing shortage that hit Berlin at the times of Industrialisation (

Gründerzeit

). The open, spacious courtyards with blooming gardens that you see on Grabbeallee today were indeed a radical alternative to a typical Berlin dwelling at Mebes' time — a tenement barrack with a sequence of up to five rear buildings.

"Buch Disko", a bookstore on Florastraße 37, is my warm recommendation for every new Pankower with some knowledge of German and/or a wish to practice it.

Rattan

, also known as

manila

,

malacca

and

manau,

is made of liana, a type of climbing plant. Rattan is commonly used as raw material in furniture production.

bürgerlich

indicates something related to

Bürgertum —

bourgeoisie, middle class

 a small plot of land for individual gardening use

Stolpersteine

("stumbling stones") — a project by the artist Gunter Demnig.

Stolpersteine

are concrete cobblestone-size cubes with brass plates bearing an inscription of names and life dates of the Nazi regime victims; they are installed in front of people's last residency/workplace. In Pankow-Niederschönhausen,

Stolpersteine

can be found on Treskow-, Eichen-, Dietzgen- and Heinrich-Mann-Straße.

Skladanowskystraße pays tribute to a famous Pankower, Max Skladanowsky. In 1895 Skladanowsky, together with his brother Emil, invented Bioskop, a first-ever projector of "moving images". The two filmmakers projected their short movies in Berlin's Wintergarten music hall almost two months before the first public screening of Lumière Brothers in Paris.
— and its persistent question: what on earth do those neo-Gothic ornaments have to do with Holland?