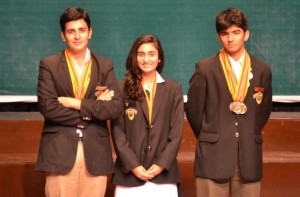 An 18-year-old born in Lahore, Pakistan has recently joined the Bard College Berlin community. Muhammad Osman Chaudhry is the third Pakistani student ever to be enrolled in the BA program. With a thick beard, cool reserve, and wearing a mix of Pakistani attire and jeans, Osman is seen roaming around campus as a thoughtful and relaxed fellow-student. As part of the blog team, I decided to have a casual conversation with Osman about his first impressions of Bard College Berlin and his life here in Berlin.
Academic Background
Osman was educated at the Lahore Grammar School and then moved to Aitchison College (a boys school). He studied at Aitchison College until his O-levels GCSEs, the equivalent of ninth and tenth grade of any high school. This school has existed for more than 100 years now as a British legacy In Pakistan. It has the reputation of being Pakistan's Eton and has been the birthplace of many great Pakistani scholars and notable politicians. According to Osman, Aitchison is probably the school that embodies to the greatest extent the idea of fraternity. At Aitchison, students had their own moral code and own defined loyalties. For this reason, Osman noted, Aitchisonians are said to be arrogant or aloof, but he believes that, on the contrary, "We are just us." Only an Aitchisonian knows what it is like to be one. After finishing his O-levels, he moved to another small but rather prestigious English-medium co-educational school called the "Learning Alliance." Upon asking Osman why he moved from Aitchison College to Learning Alliance, Osman very seriously remarked: "Well… because I like girls more than boys." Although merely said in jest, Osman's statement reveals a fact/truth about the Pakistani educational system as a whole: single sex schools were the set standard in Pakistani society, but in the past twenty years co-educational instruction has been on a surge. With the slightly satirical Pakistani sense of humor, Osman moved on to talk about his experiences at the Learning Alliance.
Music and theatre have been Osman's main interests from a very young age. He used to attend 'Qawalli' (a specific classical style of singing) at his grandparents' house. As he grew older, music became not only a strong interest, but his passion. He started acting in 2011: in the beginning he only picked minor characters, but he gradually discovered his talent. He won two theatre awards at his previous school, where he was also the secretary general of the Student Union. Osman's usual reserve seems to be coupled with his dry wit even when he speaks of his passion for music: "I liked playing guitar and using my voice to impress the female crowds; after one of my performances two girls came to me and exclaimed that they are big fans of mine." I laughed upon hearing this, while Osman kept looking seriously at his computer screen.
Other passions …
Osman's passions remain debating, drama and music. He has already performed at Bard College Berlin's celebrations. He plans to continue with debates and perhaps get some training in drama as well.
Why Bard College Berlin?
Osman was looking for a small residential place where he would get personal attention from teachers. He googled "liberal arts colleges" and upon reading the website of Bard College Berlin, what convinced him to apply was the teacher-to-student ratio. Also, given his analytical mindset, he preferred a place where he could spend a lot of time reading and writing on his own. Osman was deeply interested in learning how to read primary texts without having to depend upon external sources. He believed that this would widen his mind and would teach him to think on his own. What he also liked was the absence of a rigorous hierarchy between teachers and students at Bard College Berlin. Coming from a post-colonial educational background, Osman had only experienced a system where there always remained a strong hierarchical distinction between teachers and students. He had anticipated that Bard Berlin would give him the opportunity to explore texts in a framework based on equality.
Where else did you apply?
He also applied to LUMS (Lahore University of Management Sciences) in Pakistan and Colby Sawyer in USA. And he was accepted into both of them. He was looking for a broad liberal arts education and these schools offered a variety of courses along with a very enriching extracurricular program.
Berlin vs. Lahore
The most notable difference which Osman felt is that Lahoris are friendly, warm, open and frank people, whereas Osman's interactions in Berlin have revealed to him that westerners are somewhat different. Most of them are reserved and keep to themselves. Also, Osman has a feeble resistance to cold. Coming from Lahore, Osman felt so cold in August already, that one day as he left the campus with layers of sweaters and a thick black beard, he witnessed old German women asking their dogs to "stay away from him." Last but not least, Pakistani food and the variety of spices are hugely missed in Berlin (and I could not help agreeing more).
Plans after Bard College Berlin
Osman plans to go back after graduating, to teach history or economics in Pakistan. He believes that the education he is receiving here helps him adjust to a more diverse environment. Since Bard College Berlin is a place where one gets the chance to learn about differences by being exposed to a variety of cultures, this interaction makes him more flexible and tolerant of others' opinions and views. He would like to make the best out of his time at Bard College Berlin so that he can share his knowledge while having become a better human being.