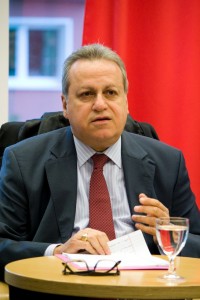 On Monday, the 4th of June 2012, both ECLA of Bard's Politics Club and students from the Democracy seminar had the pleasure of hosting Professor Ran Halévi (EHESS, Paris) for a talk on Israeli Democracy and the Politics of War.
Twelve students and three members of staff gathered with him for a discussion that centred around his main claim, namely that Israel has always been at war, yet has been at the same time a democracy.According to Halévi, these two notions had been, "associated at Israel's cradle," already.
Back in the 1920s, (decades before the sovereign state of Israel was established in 1948) there had already been a clandestine army that subordinated itself to political purposes, and up until today, there have been no rebellions by this military.
Halévi, who is not only a teacher of political history, but also a writer, editor and columnist in Paris, then proceeded to briefly introduce us to the past 65 years of Israeli history and to how internal public opinion on its political doings shifted in the early 1980s.
From the beginnings of the Israeli state, there had always been a sort of "harmonious articulation" between the military and political society. Serving in the army carried with it important social value and there was a high degree of human mobilisation amongst the Israeli population; there was still a capacity to volunteer, and many individuals aspired to a career in the military, as they saw it as a democratic honour and could use it to express their patriotism for their homeland. Additionally, it was the duty of the army to educate its members and even their families.
However, with the first Lebanese War in 1982, there occurred a great shift in the public mindset. The type of warfare changed from a conventional war of two armies fighting each other to an "asymmetric war", as the Israeli government sent troops to Lebanon as an opposition to terrorist attacks.
Halévi stated that this was the first time in Israeli history that their troops entered another country with a political purpose they wanted to achieve; in this case, it was their goal to establish a less hostile, new government there. This forced the soldiers to fight against "irregular troops", police the hostile territory, and take on different tasks that they had not assumed before.
At first, this was still supported by the Israeli public back home, but soon protests began to rise. A profound societal division and demoralisation amongst the military took place, as people began to express opposing opinions about whether this type of warfare was a national necessity, or whether the fact that they were a democratic state should keep them from doing so. Halévi claimed that a general advance of technology and the enhanced importance of individualism greatly contributed to this "patriotic declaration".
With the example of exemption, Halévi underlined his points. In Israel, men and women have to serve three and two years in the army respectively, and often they were drafted even though it is not really necessary in terms of troop sizes. However, after the early 1980s, it suddenly became usual for young people to be exempted from this service, so that in the 1990s less than 30% of the Israelis who had been drafted for the military actually served.
Summarising Halévi's very interesting account, one might say that the fact of having an anonymous enemy with whom the military forces were not directly confronted,  changed the army's role to one of policing civilians, a function which no longer produced the sort of heroism or patriotism it once did. In this regard, he also quoted de Tocqueville on the acceleration of democratic progress. Halévi ended the lecture with a question to be posed to Israel for the future: "How to manage peace?"
He moved on to a vivid round of questions and answers with the participants. This gave Halévi the opportunity to go into greater detail as to how, as shown in the example of Israel, individualism erodes (political) society (de Tocqueville); how he sees the relaxation of the military as a democratic weakness; how the Israeli population is a melting pot that has so far produced a lot of integration and mutual influence, and how the nationalists in the West Bank are politically important, even though they are electorally weak.
He ended on a rather worrying note, namely, that Israeli society is, "on the move but on fragile feet," and that, "it might implode."
by Johanna Fürst (AY'12, Austria)