Despite the occasional visits from Student Life Team Member Tina's fluffy and mostly friendly cat, Sheba, the Writing Center is not as full as one might expect during the school semester, perhaps because some people think that getting help would somehow reflect badly on them or render them less capable than their peers. Still, this is not a universal view, and many students regularly make full use of Sheba's relaxing nature, as well as of the writing tutors' thoughtful writing advice. For those of you who don't know, the Writing Center, located on the bottom floor of the Student Center at Kuckhoffstrasse 43, is a place where you can go to get help with your writing assignments — whether they be longer essays or shorter assignments. The Writing Center offers regular hours during the week, and they will be holding extra hours during finals week! The team consists of three incredibly helpful people: the Library and Academic Services Assistant, Bisera Djundeva; first-year student Sujitha Prabhakar (HAST); and graduating student Nina Lewis (HAST). They offer help with brainstorming ideas at the initial stages of writing, hammering out a cohesive essay structure, checking grammar, content proofreading, and more! 
I recently read Nina's senior thesis on "The Jewish Body in Late Medieval Europe: Myth-Making, Medicalization and the Transformation of the 'Other'". Using a historiographical approach, Nina analyzed how a number of bizarre myths about the Jewish body in the medieval period, such as the myth of Jewish male menstruation, helped cement modern-day anti-Semitism. With her thesis topic in mind, I wondered whether her intellectual interests translated into the kinds of essays that Nina liked helping students with the most.    
Elena: What kind of class topics do you like helping students with the most? Are you interested in working on essays from the Core, or Ethics and Politics classes in particular?
Nina: The most fun I've had recently was helping people with their Forms of Love essays. Not only was that a class that I remember enjoying, but, because I wrote my thesis on medieval topics, I now have a lot of knowledge about medieval history and literature. So it's sort of fun to go back and retrospectively know so much about what was happening historically around  texts like Dante's 'Vita Nuova' that I read way back in freshman year.
Nina has also helped a lot of seniors with their thesis projects while she was working on one herself. She found it engaging to work with people whose writing processes are so different from hers, but who, like her, were going really in-depth with one topic. In light of her positive experience so far, Nina would like to have a similar job when she goes to grad school.
Nina: Frequently, people would come to me being like "Oh my God, I have four essays due next week and I don't know what I am going to write any of them about!" And then we'd go through all of their class texts and see what was really interesting to them, what their questions were, and how we could come up with a good plan for working on them. To me, helping students start an essay from scratch always seemed more fun and interesting than when people came to me with a near-finished essay to proofread.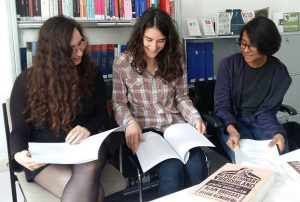 Another writing tutor, Sujitha, is not only interested in the editing and teaching part of writing, but also in engaging with writing herself. Even though she enjoys working with many different text types, lately Sujitha has been writing primarily reflective pieces on the philosophy that she has been reading in her classes, as well as exploring the ways in which poetry interacts with philosophy.
Elena: I know you're a freshman and that this job is usually given to upperclassmen. What do you think is the value of you, as a freshman, tutoring other freshmen, as opposed to an upperclassman doing this?
Sujitha: Surely, there is an advantage as I am reading the same texts that they are, at the same time. So I know the nuances and the details of the texts and I can help with not only structuring the essays linguistically, but also with ideas, and see if there are inconsistencies. I think that's one of the advantages.
Bisera, a 2017 BCB graduate, has been writing for a while, too. During our interview, Bisera and I realized that we had both written for the same high school newspaper in Macedonia. For Bisera, writing is not just a job, but a personal interest. She can't pinpoint which part of being a writing tutor is her favorite, but rather enjoys the process itself, which involves helping the writer with their work and learning about how to help students from her fellow writing tutors.
Bisera: Tong, a writing tutor from Bard Annandale who was here on exchange last semester, gave us some ideas about how to be more productive among ourselves — training ourselves so that we don't only sit and wait for people to visit us, but also think about the theory behind helping people, and what the best method to help them might be. For example, we'd ask ourselves: To what extent should one direct the writer? You don't want to direct them too much, but, on the other hand you do want to direct them. So that was one idea that we got from Tong — that we can read these texts that are on helping people with writing and reflect with each other on what we think might be the best method.
Still, working at the Writing Center doesn't come without its unique set of challenges. Sujitha expressed the concern that people sometimes just don't drop by, even when they need the help. She suggested that hosting more workshops, like the well-attended one they hosted last Fall (which covered basic essay structuring) or like the popular grammar workshop led by James Harker, would encourage more students to come. Sujitha explained that workshops which combine presentations and hands-on work would probably be the most effective teaching method. These workshops could be particularly helpful for ESL students who have not gone to international schools and who would feel more supported in a group environment. However, Bisera thought that a reason for the absence during office hours is that some students are perhaps too shy to come to the Writing Center on their own. Because of this, the writing tutors made an effort to update the BCB website with links to online sources that provide guidance for academic writing. Nina also pointed out that the biggest goal the Writing Center has is better coordination with faculty. She hopes that professors can help promote the Writing Center more in the future so that a greater number of students, especially the ones who could really benefit from but would not seek the help themselves, would make use of this resource.
Nina: Ideally one of the things that professors could do is send people our way if a student in their class got a bad grade on an essay. What could you do to either do better next time or revise this essay and do better now? They could just recommend that they go to the Writing Center.
All that said, the writing tutors describe their work as fulfilling. Bisera fondly reflected: It's very rewarding when you meet with the writer and see the progress that they've made: they come in and tell you that they got an A, and you feel like a proud parent or teacher.
As finals week is approaching, a lot of us might benefit from going to Bisera, Nina and Sujitha to get a second pair of eyes on our essays, and of course make full use of Sheba's de-stressing services.