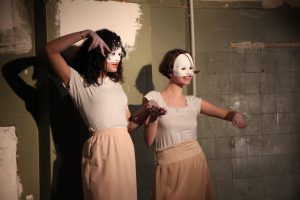 Maria Khan is a BA 2015 alumna originally from Pakistan.
Bard College Berlin has a special place in my heart. I love it. I adore it. I am shamelessly and unabashedly its biggest fan. I have loved all its transformations and will continue to do so. I spent my formative years at BCB, and my experience was enriched by the people I met, the friendships I formed, and the lessons I learned there.
Currently, I'm enrolled in a PhD program at Cambridge University, specializing in arts education. My PhD examines the use of drama for the purposes of cultural integration. I plan to work with Turkish immigrants in Germany and use Goethe's Faust to instigate a conversation about interfaith dialogue, Western versus Islamic values, and how Muslim immigrants perceive themselves in a host community.
While directing Aristophanes' The Clouds for BCB was not directly connected to my PhD research, it was of great interest to me as I have been developing my skills as a theater director. My work focuses on collaborating with college level students on a text and preparing this text for an audience. I directed The Clouds for Newnham College Cambridge in March 2016. It was during the production of this play that I contacted Ewa Atanassow, a professor of Political Thought at BCB, to acquire a better translation than what we had. One thing led to another, and we decided to stage it at BCB as part of Plato's Republic core course. With this play we hoped to build a stronger sense of community on the BCB campus and make the text accessible and alive to the student body. The play is a comedy that ridicules the effect of Socratic teachings and is very much echoed by the critique of modern day liberal values and politics. The problem in reading and performing a Greek play is the historical distance the performers and audience feel. For the staging at BCB, we had the advantage of an excellent translation and the witty minds of my actors who altered much of the text to enhance its relevance to the audience.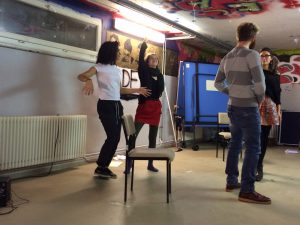 One of the reasons theater has remained a big part of my life is because it has taught me to be extremely persistent and hopeful in all circumstances. This might seem like empty rhetoric, but when one has absolutely no reason to be hopeful and when the worst has happened, that is when actors and directors stay hopeful and keep pursuing the desired outcome. I started acting when I was only 10 years old; my first role as a child actor was on Pakistani national television. However, my relationship with theater officially began when I was nearly 20, when I took on some very interesting roles including Garcin from Sartre's No Exit, and Thisbe from A Midsummer Night's Dream. By the time I arrived at Bard College Berlin, my interest shifted to directing, and I staged four different performances at BCB during my time there. None of those experiences were without their specific challenges, but this only taught me greater resilience and grit.
Directing The Clouds this time was no different: Every day we faced one hurdle after another. In April 2016 the student life committee agreed to the staging of the performance and it was scheduled for September 2016. After three failed attempts to get my visa and being unable to find sufficient actors we succeeded in scheduling the performance for the end of the semester.
Upon my arrival, I realized that we had very limited rehearsal space. We decided to rehearse in the party room where we gradually picked our spirits up but then began the inevitable: cast members dropping out and others unable to show up on time. I remember realizing one morning after I left Ewa's apartment (where I was staying), and was biking through the streets of Pankow that this play might go down as one of my worst creations ever, and that this might be the end of my very humble directorial ventures. Panicked but resolved to do something, I arrived at the rehearsal to discover that two of the main characters had not had any rehearsal — and in ten days we were opening. I decided to replace one of the actors and act myself and began rehearsing very intensely with the other.
The actors also surprised me with their dedication. The end of the semester is tough for everyone and most of the cast members were traveling to Pankow everyday from areas so far flung that it would take me less time to fly in from Cambridge to Berlin than it would take them to travel back and forth from Pankow to wherever they lived in the city.
Nevertheless, as always, there were memorable moments. I had an amazing time getting to know each of my cast members. The students of BCB have an innate artistic tendency, and soon I discovered that I did not have to do much to bring out the humor in the play: All of them had a good sense of how to generate comedy — a real treasure, I would say. All their hard work paid off at the premiere, which was very well received. There were so many audience members that I had the urge to send people back to avoid compromising the performance space! Despite all my doubts and fears, in less than twenty days we staged a great performance.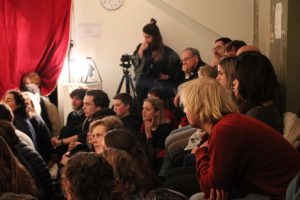 I am extremely grateful to Ewa, Matthias, Kerry and everyone in the student life committee for their invitation. Drama fills my life with hope and has made me the strong person I am today. I hope to share this aspect of theater through my research as well as through my work as a director. Hope is a great thing, and when we feel that a situation is beyond our capacities or abilities, that is when grit is needed to not give up and to keep going against all odds: The show must go on!
[hupso_hide]