► Monday: A Blink of an Eye – Cornelia Schleime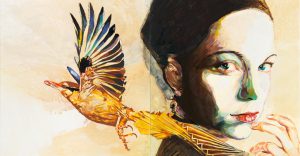 Born in the GDR, artist Cornelia Schleime was part of the movement against East Germany's policy of censorship. Exploring a range of art forms from painting to poetry, to performance, and film,, while devising her own alternative and experimental approach, Schleime's work was ultimately banned in 1981. Almost all her work disappeared after her relocation to West Berlin in 1984. Since then, she recreated some of the lost artworks. Her primary focus has been on portraits with a hint of fantasy.
When

: 10:00 – 18:00

Where

: Berlinische Galerie – Alte Jakobstraße 124–128, 10969

Admission:

5€
► Tuesday: Spot On: Women + Culture + Work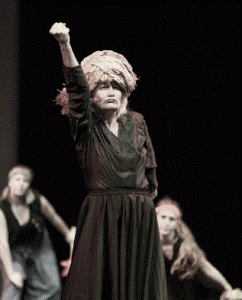 Representing Berlin's cultural sector, this exhibition features 34 women who work in the diverse fields of acting, music, dance, painting, fashion design, and writing. Besides their involvement with Berlin's demanding cultural landscape, these women don't have much in common in terms of their private and public lives: Their careers are at different stages; some live alone while others don't; some have children while some have cats or dogs instead; some are already well-known while others barely receive any recognition. This exhibition makes use of photographs and interviews to depict the daily lives of these ladies, with all their ups and downs. It also suggests ways in which Berlin's cultural sector can be improved.
When

: 10:00 – 19:00

Where

: FHXB Museum – Adalbertstraße 95a, 10999

Admission:

free
► Wednesday: Songs of the Times – Jan Toorop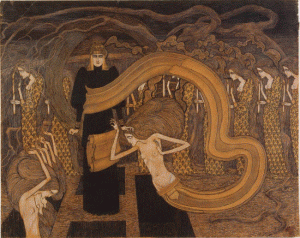 Known as one of the most influential Dutch symbolists, Toorop (1858-1928), moved through various art genres. He went from impressionism to pointillism and finally to art nouveau in his search for forms of expression and development of his own symbolist style. This exhibition encompasses his complete collection of works –  of over 200 art pieces. It features everything he created, from iconic works to illustrations to graphic and poster designs.
When

: 10:00 – 18:00

Where

: Bröhan Museum –

Schloßstraße 1a, 14059

Admission:

5€
► Thursday: Julius Evola- Revolt Against the Modern World
The Italian philosopher, — or, better put, radical thinker, traditionalist, and "superfascist" –– Evola (1898 – 1974) was admired by SS Heinrich Himmler and Italy's Moussolini. In the wake of Trump's election and the rise of populism, this panel discussion lead by the University of Muri's Institute of Occult Studies examines Evola's theories and their impact on today's Neo-Nazi and Alt-Right radical movements.
When

: 20:00

Where

: Topics Berlin – Westerstr. 166, 12045

Admission:

3€
► Friday: ğ – Queer Forms Migrate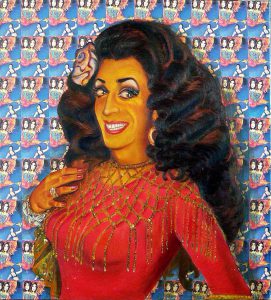 The ğ – the soft g – was added to the Turkish alphabet in the 1920s; it lengthens the vowel preceding it. This exhibition bridges between Turkey and Germany by bringing together works exploring the transcultural exchange of LGBTQ people from both places in what the artists describe as "this Berlin queer migrant state of mind.". Focusing on queer migration, marginalized sexual identities, and body politics, the artists imagine the conditions of possibility of the ğ as a symbol for the migration between Germany and Turkey. They also celebrate the possibility that it may never be pronounced correctly by Germans.
When

: 14:00 – 16:00

Where

: Schwules Museum – Lützowstraße 73, 10785

Admission:

4€
► Saturday: Christopher Isherwood & Sally Bowles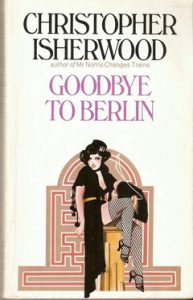 Only 6 buildings away from where the English writer Christopher Isherwood resided during his Berlin years, the setting of this musical takes you right back to the 1930s Weimar Berlin. Through the atmospheric musical scenes you will relive Isherwood's encounter with Sally Bowles – the inspiration behind Cabaret – and many more influential figures.
When

: 20:00

Where

: The Ballery – Nollendorfstr. 11-12, 10777

Admission:

10€
► Sunday: Klunkerkranich 2017 Opening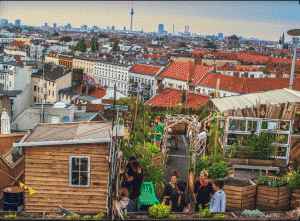 After the winter slumber of January and February, Neukölln's Klunkerkranich returns with its cultural roof garden (Kulturdachgarten), signalling the hopefully imminent arrival of spring. The minimal techno tunes of the band Blogrebellen will accompany guests on the roof as they indulge in any of the homemade antipasti, Bratwurst, pasta, churros, soup or even breakfast delicacies served until 16:00.
When

: 12:00 – 02:00

Where

: Klunkerkranich – Karl-Marx-Str. 66, 12043