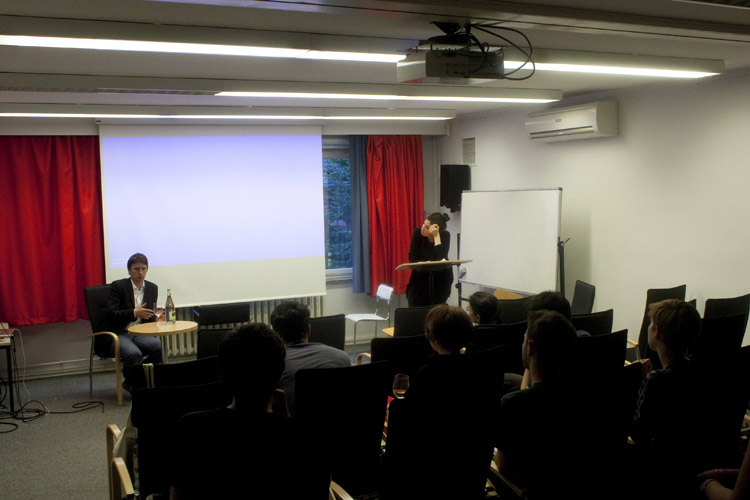 On May 15th, ECLA of Bard had the pleasure and privilege to host a talk on post-revolutionary Egypt with Thomas Hasel, co-producer of the Deutsche Welle documentary After the Storm: A New Beginning for Egypt's Economy, which deals with Egypt's economy after Mubarak's fall. The event was organized by ECLA of Bard's Politics and Ethics concentration seminar Democracy: Ancient and Modern, taught by Professor Ewa Atanassow. The discussion was moderated by our BA2 student from Egypt Aya Ibrahim, who actively contributed to its course with her firsthand knowledge.
The screening of the documentary preceded an insightful talk with Thomas Hasel. Mr. Hasel is a German journalist and political scientist. Since 1994 he has specialized in political and economic systems in the Arab world and published a number of press articles on the Arab states in North Africa. His evident expertise and interest in the Egyptian situation made the discussion very lively and fruitful from the very beginning. Mr. Hasel was patient enough to answer our every question, and his answers were informative at all times.
The documentary After the Storm: A New Beginning for Egypt's Economy deals with the development of Egypt's economy after Mubarak's fall, arguing that the revolution in early 2011 was a protest not only against an authoritarian ruler, but also against the country's economic misery, corruption and unemployment rate. The film gave the audience enough background information on the current situation and helped us to better understand its practical underpinnings, which later inspired some very thought-provoking questions addressed to Mr. Hasel.
One of the main points highlighted by the documentary and raised by the students is the division between lower and upper social classes in contemporary Egypt.
Read more