What do alumni Aya Ibrahim and Tuvshinzaya Gantulga have in common with students Wafa Mustafa (BA3), Mais Hriesh (who has since graduated from Bard NY) and the once-neighboring "Family Without Borders" who now resides in Budapest? Aside from the fact that they all appear in this email, at some point in the past three years they dedicated time to be interviewed by Die Bärliner, enabling the compilation of a rich portrait piece of each. Though their interviews were conducted some time ago, in these articles you'll find a wealth of good advice and useful information still relevant today.
Enjoy!
July 2018 "The best thing journalists can do today is listen more" – Alumna Aya Ibrahim on BCB, Deutsche Welle, Journalism and More by Elena Gagovska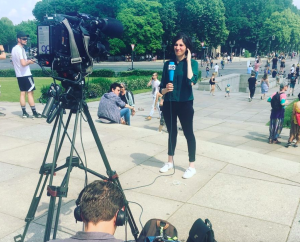 …."I learned a lot at school, but Deutsche Welle is where I got my education."
What she means by this and how her transition from school to journalism happened was the subject of a one-on-one talk I had with Aya earlier this month.
Elena: How has your time at BCB prepared you for professional life? Is there anything about your education at BCB that you would like to point out?
Aya: I think it's an unfair question to pose to the kind of education you get at BCB. It is not a vocational degree and doesn't prepare you for a specific career, which is why I chose to study there in the first place. I learned a lot at school, but Deutsche Welle is where I got my education. That doesn't mean BCB hasn't to an extent prepared me for it. It's more about the whole mindset you cultivate at a place like BCB. It is a questions based curriculum, so it opens up the way you think. You become very comfortable with uncertainty, and that's an invaluable skill for any journalist today….
August 2017 Alumni Speak: Tuvshinzaya Gantulga on Liberal Arts by Ronni Shalev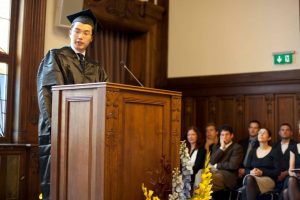 …What I've realized – like everybody who studies or advocates liberal arts – is that no discipline exists on its own. Even the most technical aspects of a discipline require a holistic approach that only a liberal arts education can give. That's something that I really try to pick up in any educational institution. At the end of the day, if I'd have studied only business before I came to the American Chamber of Commerce, I would have been completely lost. We could be talking in the morning about supporting an NGO, in the afternoon about what kind of investments make sense, and in the evenings we could be making hardcore financial analyses. What I'm saying is that no matter what you do, you will have to know so many different fields, be very fluid, and see it more as one thing rather than as different disciplines. That's what liberal arts helps you to realize and adopt….
April 2017 Wafa Mustafa: The Story Behind the Name by Tanya Sharma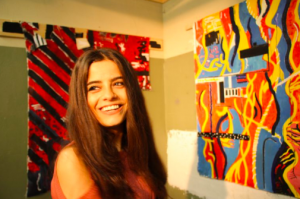 …"Studying seems like such a luxury compared to what is happening in Syria," she whispers. "Everyone I know is either dead or arrested, and I'm supposed to be fighting there with them. But I can't anymore. I'm supposed to be fighting, but I can't. Everything seems really useless at this point." Her posture has grown limp, and she fidgets with a napkin absentmindedly.
Suddenly, as though thinking of something new, she straightens up and looks me dead in the eye. "I'm proud of who I've become, though," she announces. "I'm doing well here. I take great courses and I've made really close friends that I love spending time with." Wafa's letter grades are fantastic and she finds that she is gradually adjusting to life in Berlin. "I'm becoming more like I was in Syria, and I love that," she smiles. "The Wafa in Syria was amazing. She was strong and active and nothing could stop her. I'm not proud of who I was in Turkey, but I am proud of how I overtook that life." …
October 2015 Student Profiles: Mais Hriesh by Margarethe Hattingh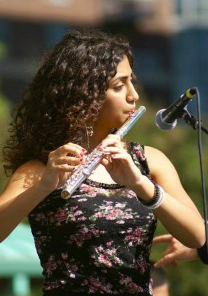 …"I was really lucky to have this opportunity that a lot of people like me didn't have. I think I owe it to my community to go back and to try to give even a little bit – to at least try to give." Particularly, [Mais] would like to continue working with the Polyphony foundation.
Later, sitting down to write this, Google defines polyphony for me as "the style of simultaneously combining a number of parts, each forming an individual melody and harmonizing with each other." She explains the word "Polyphony" to me much better than Google could. "It means many voices that work together, and different voices that work together. Even though we have different backgrounds, different views, different political beliefs, different religions, we are able to work together and stand together on one stage and play the same music, and try to present it in the best way possible." …
January 2015 An encounter with "The Family Without Borders" by Inasa Bibic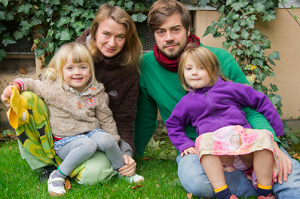 If you thought Pankow was the most boring, uneventful borough of Berlin – think again! Only ten minutes from the U-Bahn station lives the most fascinating, unique family you will find in Berlin – "The Family Without Borders." The Alboths are a travelling family who together with their small daughter Hanna decided to live their life's dream in 2010 – doing a 6-months long road trip Around the Black Sea, through the Caucasus to the Caspian Sea and back to Berlin. In 2011 and 2012, they continued their adventures when their second daughter Mila was born – the Between the Oceans Tour took them through Central America from Mexico down to Guatemala, Belize and Honduras. In the summer of 2013, they went to Bosnia and Herzegovina. In 2014, they did their next big trip – Looking for Taka-Tuka-Land, through New Zealand and the South Pacific, with two big backpacks, a tent and hitchhiking enthusiasm on sailing yachts. It might seem strange to first introduce Anna and Thomas's daughters in describing their travelling adventures – however, the Polish mom journalist and German dad photographer give their children a lot of credit when it comes to choosing the destinations and learning from people's stories on the trips…