► Monday, September 26th: Golem!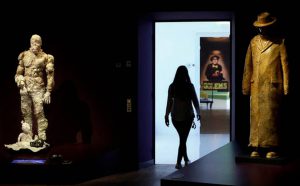 The myth of the Golem – a monstrous artificial life form – has been an inspiration to a wide range of cultural narratives and has shaped the way in which topics such as: man-made creation vs. divine creation, power and, redemption, are thought about. This exhibition traces the historical and cultural development of the figure of the Golem in all its facets and usages, from Jewish mystical rituals to literature and pop-culture.
When: 10:00-10:00
Where: Jewish Museum: Lindenstraße 9–14, 10969 Berlin
Admission: 3€ for students
► Tuesday, September 27th: Islamophobia in Europe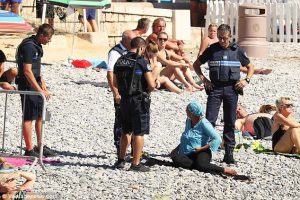 Right-wing politics are on the rise in many parts of the world, and Islamophobia is deeply ingrained in its rhetoric. The Iranian left-wing activist Pazahreh Heidari will explore topics such as the socialist rejection of religion, the ability to criticize Islam, and how the Islamophobic dialectic is linked to the negative sentiments developed towards migrants and refugees. The evening is an open forum. Everyone is invited to contribute to the discussion and brainstorm strategies to put a halt to the rise of racism and Islamophobia.
When: 19:00-21:00
Where: Karl Liebknecht Haus – Kleine Alexanderstr. 28, 10178 Berlin
Admission: free
► Wednesday, September 28th: Pina Bausch & the Dance-theater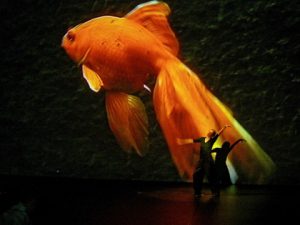 Pina Bausch  is a renowned 20th century choreographer who pioneered the modern dance theater. Through objects, installations, photographs, and videos, the exhibition traces her work's development over the many  years. The exhibition does not only focus on staged performances, but also explores the artistic process that lead to the creation of beautiful pieces. At its centre there is a reconstruction of the original rehearsal space in which Bausch's pieces sprang to life. This reconstruction – or, creative experimental space –  will be the platform for performances, dance workshops, conversations and film.
When: 10:00-19:00
Where: Martin Gropius Bau – Niederkirchenstr. 7, 10117 Berlin
Admission: 6,50 €
► Thursday, September 29th: The "EasternDaze"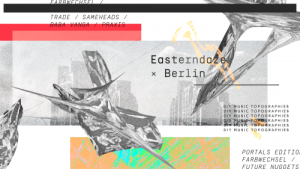 Let's move beyond clichés and Cold War spy theories and instead delve into their DIY alternative. EasternDaze is a series of concerts, film screenings and exhibitions that focus on the alternative music scene in Central and Eastern Europe. It's a mixture of traditional music, music emerging during and after the Cold War and today's music. These independent music sceness take on traditional and marginalized local musical styles all the way from Budapest to Warsaw. Today's line-up includes 8 musicians. It is not only a concert series, but also an exhibition of documentary films, visual identities and a merchandise market.
When: 18:30
Where: Silent Green Kulturquartier – Gerichtstraße 35, 13347 Berlin
Admission: depends on the desired concert/film-screening
► Friday, September 30th: Shadow – A Play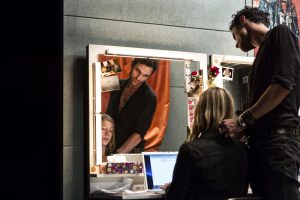 Directed by Katie Mitchel and written by Elfriede Jelinek, the play explores a myth through a feminist perspective. Orpheus leads Eurydice through the tunnels leading to life from death. The journey gives rise to the main character's realization that, throughout her life, she was overshadowed by male figures in a patriarchal society that refused her independence. The play poses questions on gender-related issues, such as feeling trapped in one's own body. Ultimately, the female character is confronted with a choice between a "shadowy non-existence" in the underworld over life in such a male-dominated society.
When: 20:00
Where: Schaubühne am Lehniner Platz – Kurfürstendamm 153, 10709 Berlin
Admission: 31€ – 48€
► Saturday, October 1st: Photography Month – Opening Days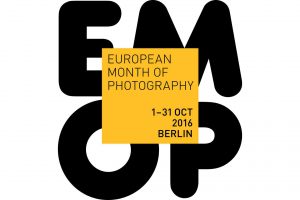 If you're a photographer or a lover of photography, then this is the place for you! Featuring 120 photo institutions and 130 exhibitions, the European Month of Photography commences on October 1st and will continue until October 31st. You'll find everything from panel talks, to workshops, to live acts, to book days covering a seemingly endless range of topics related to photography. These topics include those of film production, publication, journalism, editing, art marketing, light graffiti and music. Make sure to check out the detailed program in the link above.
When: 12:00-18:00
Where: Amerika Haus – Hardenbergstraße 22–24 . 10623 Berlin
Admission: 6€ for students
► Sunday, October, 2nd: Old Fleas – the Vintage Market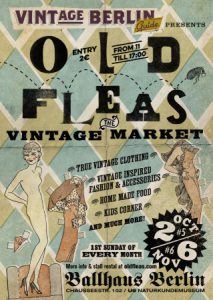 As Fall approaches, you're slowly panicking because you find yourself in increasingly dire need of some autumn clothes and accessories with a vintage twist to match the Berlin scene. Look no further: Berlin's monthly vintage market is back. Start your long weekend by strolling through the stalls offering handpicked vintage items in the historical building Ballhaus Berlin. Make sure to drop by the surprise classes offered and grab a bite to eat from the home-made food stalls.
When: 11:00-17:00
Where: Ballhaus Berlin – Chausseestraße 102, 10115 Berlin
Admission: 2€
[hupso_hide]